[dropcap type="circle" color="#ffffff" background="#555555″]S[/dropcap]PA TRAVEL is an incoming travel agency offering You accommodation, tours, travel guides, travel packages and everything You need in Serbia! Over the past few years we had a large number of organized groups from abroad especially from Bulgaria, Romania, Republic of Macedonia, Bosnia and Hercegovina, Russia and from other contries.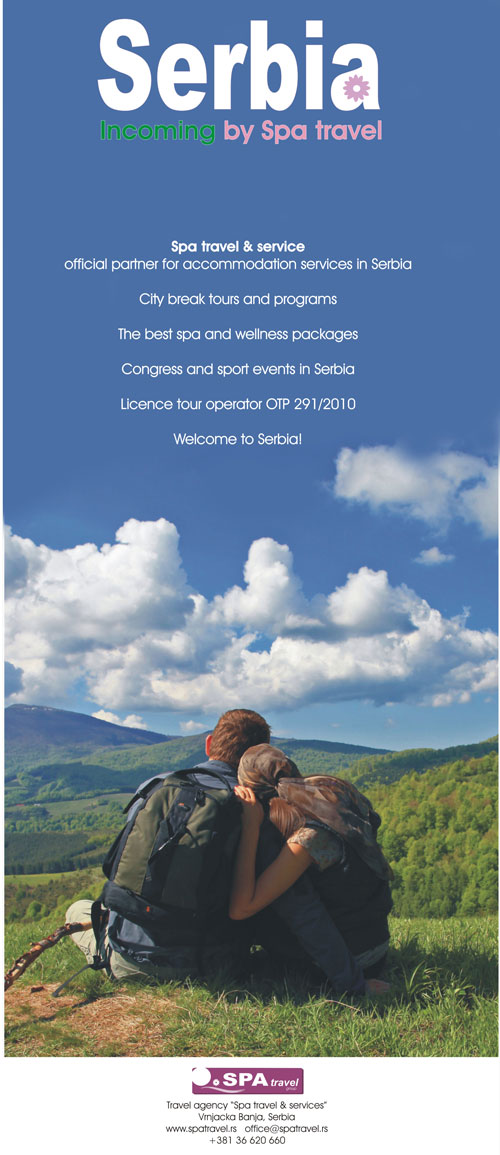 Spa travel was founded in 2007 and since from than successfully operating like incoming tour operator. We are specialized for serbian spas (Vrnjačka Banja, Banja Koviljača, Ribarska Banja, etc), for serbian cities, mountians (Zlatibor and Kopaonik) and other tourist resorts.
Do not hestate to contact us because we can make that Your tours through Serbia be easy, beautiful and content.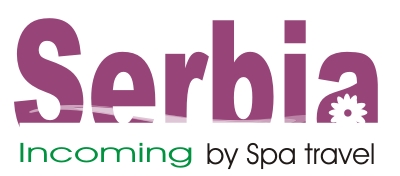 HEAD OFFICE
Travel agency "Spa travel"
Kneza Miloša str 5/8
36210 Vrnjačka Banja, Serbia
Phone: +381 36 620 660
Cell phone: +381 64 18 16 601
E mail: office@spatravel.rs
Official partner for accommodation services in Serbia is SPA Travel & Service Travel Agency, licence OTP 291/2010 issued by APR – Registry of the tourism (Liability and insolvency Insurance 300.000 Eur)
ABOUT SERBIA
From the agriculture regions of the Pannonian Plain in the north, across the fertile river valleys and orchard-covered hills of Šumadija, the landscape of Serbia continues southward, gradually giving way to mountains rich in canyons, gorges and caves, as well as well-preserved forests.
Serbia's beautiful mountains, national parks, rivers and lakes are the perfect location for an active outdoor holiday – from hunting and fishing to extreme sports.
The cultural and historical heritage of Serbia begins with prehistoric archaeological sites and its legacy from classical antiquity. Perhaps its greatest riches, though, are in the many mediaeval Serbian churches and monasteries, some of which are included on the UNESCO World Statistically, the most visited tourist destinations are the cities of Belgrade and Novi Sad, the mountains of Kopaonik and Zlatibor and the spa towns of Vrnjačka Banja and Sokobanja.
TOP EVENTS IN SERBIA
EXIT – EXIT is an award-winning summer music festival. It was officially proclaimed as the "Best Major European festival" at the EU Festival Awards 2013. It is held annually at the Petrovaradin Fortress in the city of Novi Sad. With a recent alumni that includes Guns N' Roses, Nick Cave and the Bad Seeds, Hardwell, Avicii, Martin Garrix and a whole load more, it's easy to see how EXIT's reputation continues to dominate the festival scene.
GUČA TRUMPET FESTIVAL – With considerable experience in organizing Assemblies, today the traditionally hospitable Gucha has earned its place on the map of world music festivals, inviting high interest from ethno music lovers, and deservedly so. Guča is a place of catharsis of the heart and soul while the festival lasts. The festival attracts visitors from Mexico, Spain, Greece, Denmark, China and many other close or distant countries.
BELGRADE BEER FEST – It is on average, the biggest beer festival in Southeastern Europe. Within five days, over 500.000 people visit the festival. The large number of visitors is mostly due to basic festival principles: free entrance, an exceptional music program, and a wide range of foreign and domestic beer brands. The festival was founded in year 2003. In thirteen years of its existence over 7.2 million visitors have seen more than 570 music performances, tasted more than 300 beer brands and participated in numerous social campaigns.
LOVEFEST – It is a unique cultural platform from Vrnjačka Banja aiming to promote music, art and urban culture of youth. The festival started in 2007 as a Love bridge party and already a year after it made its debut as one of the hottest music events in central Serbia. In 2012 Lovefest got its recognition from the Ministry of youth and sports as the biggest youth festival in the country and only a year after it was nominated by UK Festival Awards for the best overseas festival.
Photo:
[gdl_gallery title="serbia-incoming" width="180″ height="110″ galid="1″ ]